Head of the Institute of Justice Press
prof. n. dr hab. Bogumił Szmulik – director of IWS Publishing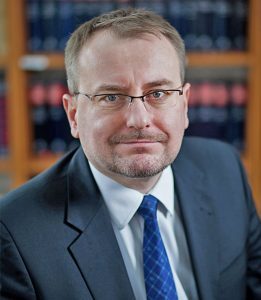 A graduate of the Faculty of Law and of the Institute of Political Sciences at the Maria Curie-Skłodowska University in Lublin, Professor Bogumił Szmulik also holds the doctoral degrees in humanities and law. He obtained a post-doctoral degree in law from the Faculty of Canon Law and Administration of the John Paul II Catholic University of Lublin for a dissertation on the constitutional position of the Polish Supreme Court.
Professor Szmulik took part in the international student exchange programmes at the Kriminologische Forschungstelle des Kriminalwissenschaftlichen Instituts der Universität zu Köln (Cologne, Germany) and the Max-Planck-Institut für ausländisches und internationales Strafrecht (Freiburg, Germany).
As the Cardinal Stefan Wyszyński University Professor of Law he leads the Chair of Comparative Constitutional Law and the Law of Political Systems of the University's Faculty of Law and Administration. A reviewer of the General Council for Science and Higher Education and member of the Polish Accreditation Committee, Professor Szmulik also advises the Speaker of the Sejm as an expert on the Constitutional Court and holds the membership in the Legislative Council of the Prime Minister. He also served as the Head of Wydawnictwo Sejmowe, the official publishing arm of the Polish Parliament.
Professor Szmulik's key research interests are comparative constitutional law and contemporary political systems.
He is the author and a co-author of several reference books, commentaries, monographs, opinions, expert reports, textbooks and coursebooks, as well as academic papers. He contributed in the writing of a number of publications on constitutional and administrative law, parliamentarism and legal system, including Sądownictwo konstytucyjne – ochrona konstytucyjności prawa w Polsce, Pozycja ustrojowa Sądu Najwyższego w Rzeczypospolitej Polskiej, Wybrane aspekty parlamentaryzmu zracjonalizowanego, The Parliaments of the Visegrad Group, Ankieta konstytucyjna, Organy ochrony prawnej RP and Zarys prawa administracyjnego .